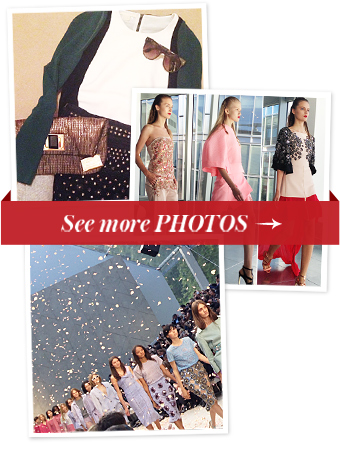 See All Photos
Courtesy Photo (3)
London Fashion Week wrapped up earlier this week, and in the second installment of her London Fashion Week photo diary, InStyle Style Director Melissa Rubini snapped the rose-petal flurried finale at Burberry, her favorite spring/summer 2014 looks from Antonio Berardi and more. Click through to cross the pond and experience London Fashion Week for yourself. Missed out on her first LFW photo diary? See her capture everything, from her royally delicious breakfast to pretty prints at Mary Katrantzou.
For live updates, follow Melissa Rubini on Twitter (@InStyleMelissa) and Instagram (@InStyleMelissa).
MORE:
• Style Director Melissa Rubini at LFW, Part I
• 75 Moments from New York Fashion Week
• What Does Melissa Rubini Carry in Her Bag During Fashion Week?