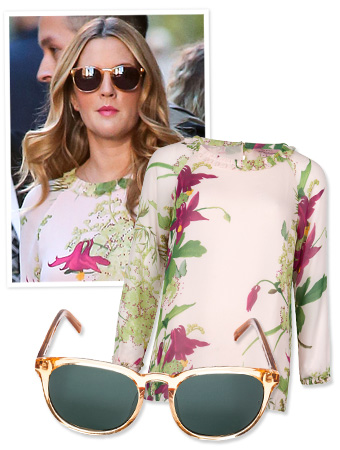 Teach/FAMEFLYNET PICTURES; Courtesy Photo
Drew Barrymore proves that casual can be so, so chic. After a very high-fashion September, all with starring as the stunning cover girl for InStyle's September issue and attending Estee Lauder's Modern Muse launch party with InStyle's Ariel Foxman as her date, Barrymore is taking it down a notch these days in a weekend-perfect look. The actress recently stepped out in the Meatpacking District of New York City wearing a pink floral Ted Baker blouse paired with Sunday Somewhere's Alita sunglasses. Scoop up the Rosiye blouse in Forty's Bloom floral print for $195 at tedbaker-london.com and Sunday Somewhere's Alita sunglasses in transparent ale for $265 at sundaysomewhere.com. Brunch outfit? Check!
Plus, see Drew Barrymore's best looks ever!
MORE:
• See Drew Barrymore's Transformation!
• Shop Hannah Simone's Ted Baker Dress
• Pippa Middleton's French Connection Blazer