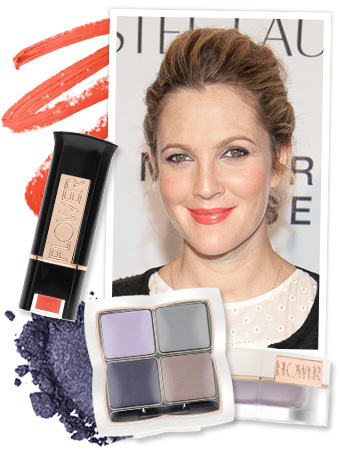 Marco Sagliocco/Sipa USA, Courtesy (3)
It was a September issue reunion of sorts at the Estee Lauder Modern Muse party, where our editor Ariel Foxman presented his muse Drew Barrymore at New York City's Guggenheim Museum. Thanks to her pale violet eye and peachy lip, our cover girl also served as a beauty muse for us, and we just had to find out what she used to get the look. Barrymore used products from her own Flower Beauty line, blending a mix of the Color Play Creme Shadow in Orchiding Around and the Eye Quad in Face the Grey ($8 and $10; walmart.com) on her lids. She opted to lacquer her nails up in her Go With the Flow-er polish ($5; walmart.com), and the Flower Kiss Stick in Coral Floret ($7; walmart.com) tied the look together. "I wanted to investigate what was going on for Fashion Week, and I found a lot of nude nails and a lot of orange lipstick," Barrymore said. By using pale shades of lavender, her eye makeup was able to complement her bold lip, rather than competing with the color. We love it!
See more fall makeup looks to try.
MORE:
• Go Inside the Estee Lauder Modern Muse Party
• Drew Barrymore Reacts to Her 7 InStyle Covers
• How to Get Drew's Dark Vampy Lip from Our Issue