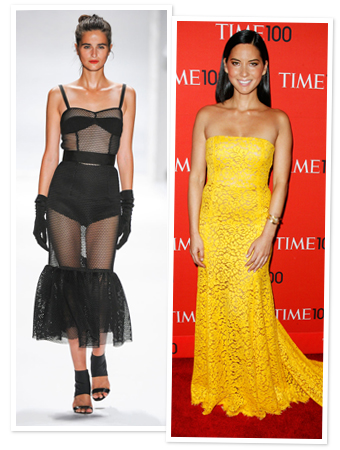 John Spellman, Imaxtree
Out with a bang! It was the dress everyone was talking about at Milly's New York Fashion Week show, and designer Michelle Smith knows exactly which celeb she wants to see wearing the final look from her spring 2014 collection. "Olivia Munn," the designer told InStyle.com before the show. "She's hot!" Hot enough to sizzle in the black honeycomb, bustier dress and neoprene short combo that ended a range of mesh pieces paired with bright, ladylike underpinnings (neon bralettes and shorts dominated). "I was inspired by the traditional notion of femininity, " Smith explained. "But I mixed it in a very modern way through the use of very interesting technological fabrics, new silhouettes and transparencies." So Munn, get ready to stun — Smith is certain her last look will be red carpet fabulous!
Plus, see more moments from Fashion Week.
MORE:
• All the #NYFW News You Need to Know
• Launch You'll Love: Milly for Banana Republic
• Celebrities at New York Fashion Week
— Alyssa Bailey