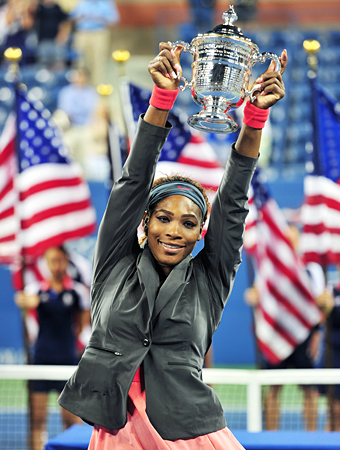 Stan Honda/AFP/Getty Images
Say hello to your new US Open women's singles champion! Last night, Serena Williams defeated fellow tennis pro Victoria Azarenka of Belarus (they both were ranked number one and two respectfully) in a close match of 7-5, 6-7 (6), 6-1, making this William's fifth US Open win and her 17th Grand Slam title. The US Open champion is now just one shy away from Martina Navratilova and Chris Evert's record of eighteen titles, coming that much closer to becoming one of the most decorated tennis players in history. Williams hit the 16th title mark after her recent victory at the French Open against fellow star Maria Sharapova. Stay tuned tonight as the two top single men's players, Novak Djokovic and Rafael Nadal, battle it out for the US Open trophy.
Plus, click through to see tennis inspired looks you'll love.
MORE:
• Venus and Serena's US Open Manicures
• Serena Williams' Wimbledon Style
• Novak Djokovic Is as Obsessed With Ryan Gosling As You Are