An identity crisis can be a good thing for 20-year-old L.A. native, Sky Ferreira. It's been a five-year journey from her bubblegum-pop roots to today's edgy electronic bangers and burning love confessionals (the single "Everything Is Embarrassing" has more than 1.5 million YouTube views). Her debut album, I Will, drops in August, but in the meantime, the singer sat down with InStyle for a feature in our Salma Hayek-covered July issue and revealed some wild facts about her life. Example: She was pals with Michael Jackson. Her mother was his hairdresser, but young Ferreira didn't realize that he was the Michael Jackson until years later. "He was just my family's totally normal friend," she says. And that's not all she said. Learn more about the singer and see five more photos of her modeling summer's feminine cuts and seductive textures on page 192 of our July issue, or download it on your tablet.
MORE INSIDE THE JULY ISSUE:
• First Look at Salma's Cover Story
• Man of Style: Keith Urban
• Salma's New Beauty Line
• Shop the July Issue with Magnetique 
— Melissa Maerz
Photo: Sky Ferreira in 3.1 Phillip Lim.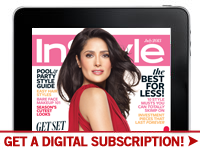 Download the new issue on your tablet: