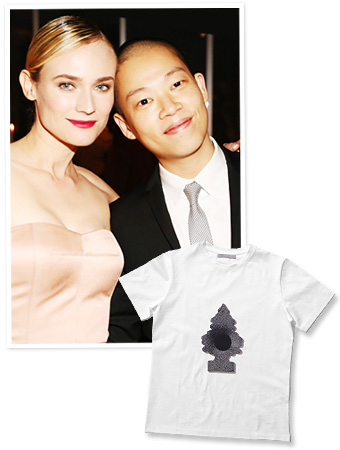 Splash News; Courtesy Photo
Jason Wu often dresses Diane Kruger on the red carpet, and last week, the fashion star lent her support to him when she attended the Young Friends of ACRIA's 2013 Summer Soiree he helped host at Glass House in New York City. Wu is a member of the group, which actively works to engage supporters under 40 in the fields of design, media, and arts in supporting ACRIA's mission to offer healthcare and consulting to those affected by HIV and educate people about the disease. The event also celebrated the release of the limited-edition T-shirt he created with artist pal Nate Lowman, a collaborative design created to raise awareness and funds for the non-profit. All proceeds from the purchase of Wu and Lowman's design will benefit ACRIA. Show your support by picking up one today for $175 at jasonwustudio.com or acria.org.
Plus, see more stars in Jason Wu!
MORE:
• More Products with a Purpose
• Diane's Best Looks Ever!
• Bluer Denim Launches on Kickstarter