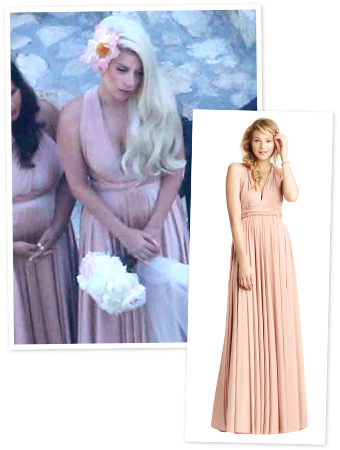 FAMEFLYNET PICTURES; Courtesy Photo
Lady Gaga had the honor of being a bridesmaid at her bestie's wedding in Cabo San Lucas on Saturday, June 8. Gone were her wild stage costumes and funky hair for the beachside nuptials. Rather, she stood beside the bride, her school pal Bo O'Connor, in a subdued rosewater colored maxi dress by Ariane Goldman of Twobirds Bridesmaid. The style is made to be worn long after the wedding, as it can be wrapped 15 different ways—think criss-cross back, added sleeves, and strapless—to make it feel like new. Shop the style for $310 in at twobirdsbridesmaid.com, available in 15 colors.
Plus, see famous newlyweds!
MORE:
• The Latest Star Engagements
• Target's Bridesmaid Collection
• Top 2013 Wedding Trends