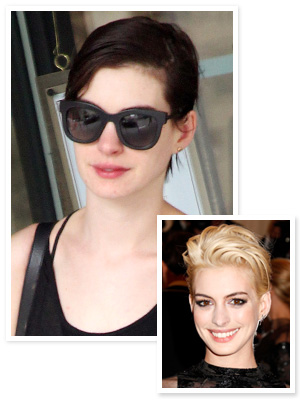 See All Photos
Ralph/PacificCoastNews.com
After spending three-and-a-half weeks as a blonde, Anne Hathaway has returned to her brunette roots! Transitioning to a darker shade like Hathaway runs the risk of fading due to the light base underneath. If you're going for a similar change, consider investing in a color depositing conditioner to keep your hue from shifting. We're obsessed with Evo's Fabuloso Conditioner ($40; evohair.com), which has color pigments blended into the formula to give your shade a boost. So, which hair color do you prefer on Anne? Tell us by voting in the poll!
See more celebrity hair makeovers in our gallery.
MORE:
• See Yourself in Anne's Pixie Cut!
• Anne's Pixie vs. Lauren Conrad's Waves
• Blonde Ambition: Anne Hathaway Goes Platinum!