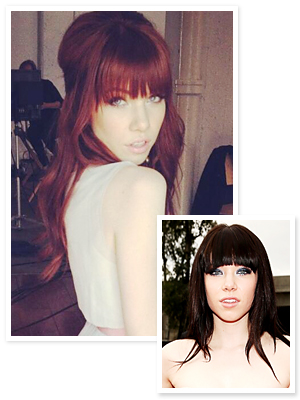 See All Photos
Courtesy Twitter/Carly Rae Jepsen; Getty Images
Carly Rae Jepsen is the newest celebrity redhead! On the heels of the auburn hair trend sparked by Dianna Agron and Rachel McAdams, the singer showed off her fiery new strands on Twitter this week. Jepsen last updated her 'do with a deep brunette shade in November, so we figured something was up when she tweeted "At the salon–doing something drastic," on Monday. Soon after, she posted a picture of her new look with the caption "I've always wanted to go red!" We're all for it—the hue is so flattering on her. Do you like her new look? Tell us in the comments.
See more celebrity hair makeovers.
MORE:
• See Carly's Hair — On You!
• Sign Up for InStyle's Hair Newsletter
• "Call Me Maybe" Inspired a Lipstick!