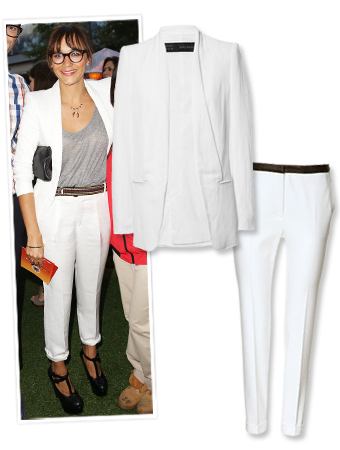 Chelsea Lauren/Getty Images for City Year Los Angeles; Courtesy Photo (2)
Rashida Jones epitomized casual cool when she showed up to the City Year event in Los Angeles this week in a crisp white blazer, pleated cropped pants to match, and a soft gray cotton tee. "This is Zara actually," the Parks and Recreation star revealed to InStyle.com. "Zara is literally my favorite place. I love it." Jones paired the brand's linen blazer ($90) with the faux leather-topped trousers ($60), and then layered a basic ribbed T-shirt underneath ($20). Rashida's style stayed true to her love for "architectural clothes and menswear" without being overly masculine. Head to zara.com to start shopping her look now.
Plus, see more of Rashida's best looks.
MORE:
• Rashida Loves To Layer Necklaces
• Shop Jones' Geek Chic Glasses
• Rashida's Hilarious Thoughts on High Heels

— Andrea Simpson