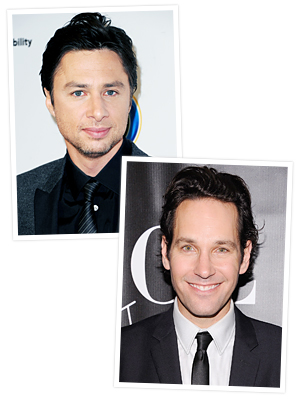 WireImage; Getty Images
It's an age-old battle in the lives of women everywhere: which quirky cute guy is your favorite? Today, we celebrate the birthdays of two of the most beloved in the quirky cutie category: Zach Braff, who first won our hearts as the clueless intern on Scrubs, turns 38, and InStyle Man of Style Paul Rudd, who appears as though he hasn't aged at all since he fell in love with Cher Horowtiz in Clueless, celebrates his 44th birthday. So, which one do you prefer? For a refresher course, watch Rudd reminisce to Katie Couric about his breakout role in Clueless, then watch Braff meet cute with Natalie Portman in his film Garden State. Then, vote below!
Plus, see of InStyle's favorite men!
MORE:
• Justin Timberlake Collaborates With Tom Ford
• Andrew Garfield is a Real Life Hero
• Paul Rudd Loves Karaoke