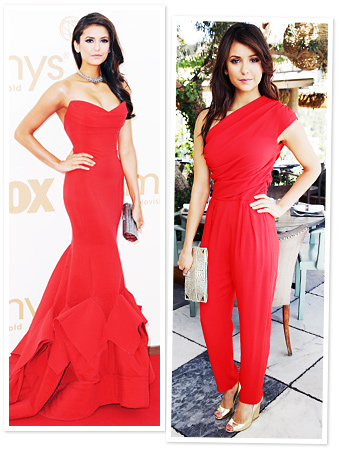 WireImage; AP Images
Nina Dobrev celebrated her stylist, Ilaria Urbinati, at THR's Top Stylist Luncheon, which is why she chose to wear this strawberry MaxMara pantsuit—a look she said she chose to reference the first time she and Urbinati worked together. "I wanted to pay homage to her. The first job Ilaria and I worked together on was the 2011 Emmys, when I wore Donna Karan's red dress, so I wanted to honor that," Dobrev told InStyle.com. So sweet! And she went on to say why their partnership, which includes Elie Saab, Monique Lhuillier, and Naeem Khan dresses, works so well: "If something doesn't work, even if it's a big designer look, she's not going to make me wear it just because. It's whatever I feel best in and what is event-appropriate. That's why I love her so much." If only every closet came with an Ilaria!
Plus, see more of Nina's looks, as chosen by Ilaria, in the gallery.
MORE:
• More Stars Celebrated Their Stylists!
• The Dior Face Mask Nina Loves
• Nina Has a Girl Crush on Jennifer Lawrence
— Lindzi Scharf