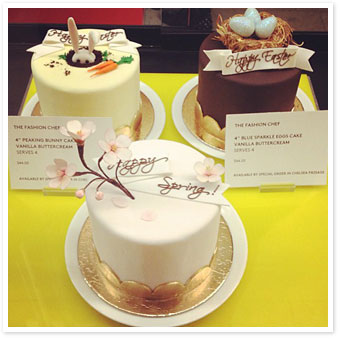 Courtesy of Instagram
Chocolate Easter bunnies can't compare to The Fashion Chef! The baker—real name, Charlotte Neuville—changed careers after 30 years in the fashion industry (with names like Perry Ellis and Gap under her belt) to pursue a career in the pastry arts. Now, she cooks up delectable, Instagram-worthy cakes that have a stylish spin—not only are they beautiful to look at and delicious to eat, they're also sold at the fashion flagship, Barneys New York. Her Easter selections include three buttery vanilla and buttercream frosting cakes that stand three inches tall. To order, call Barneys 212-833-2426; cakes are $44 each.
Plus, see more of InStyle's best Instagrams in the gallery, and stay up-to-date by following us at @instylemagazine on Instagram.
MORE:
• Runway Looks We Love: Marchesa
• InStyle Readers' Emerald Instagrams
• #TBT: Renee Zellweger's Color Issue