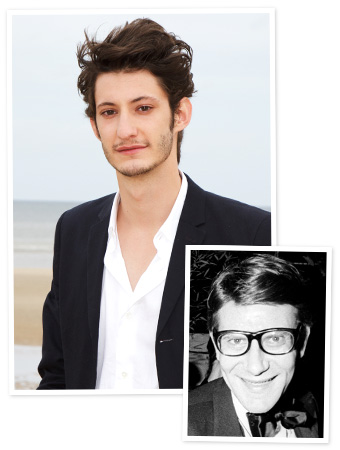 Richard Bord/Getty; Ron Galella/WireImage
The Yves Saint Laurent film that will follow the late designer's rise from Dior assistant to fashion visionary was only just announced, but already 18-year-old Pierre Niney has been cast as a young YSL. So, who is Pierre Niney? According to his Twitter (@pierreniney), the Frenchman describes himself as a actor, director, and author—a jack of all trades whose first language is the same as Saint Laurent's. (Brownie points for authenticity.) He's appeared in a impressive list of film festival-bound films, and photographs prove he can work Saint Laurent's trademark thick-rimmed glasses with ease. The film is due out until 2014. Will you see it?
Plus, see the latest YSL looks from Paris.
MORE:
• Kirsten Dunst Front-Row at Saint Laurent
• Jennifer Hudson's Saint Laurent Super Bowl Look
• Try This Orange Saint Laurent Lipstick