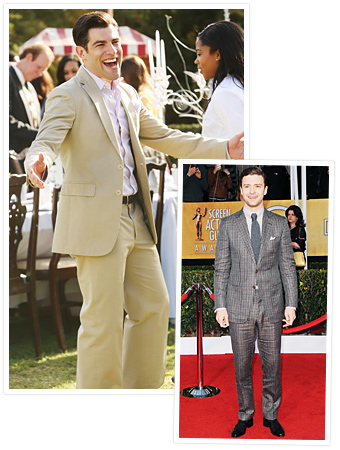 Courtesy Photo; Sipa USA
A new episode of New Girl aired last night, and as always, we were smitten with Schmidt—and his classic style. According to Schmidt himself, actor Max Greenfield, that's because the character is trying to emulate one very slick star. "I felt like Schmidt's style can be best described as 'he saw a Justin Timberlake HBO special and did his best to kind of replicate that within a budget. And it didn't go well. And it's kind of stayed on that level ever since,'" joked Greenfield to InStyle.com while walking the red carpet at PaleyFest. Can you see the style resemblance?
Plus, shop Zooey's best New Girl looks.
MORE:
• Zooey Is InStyle's April Cover Girl!
• Max Greenfield and Jake Johnson's Bromance
• Jake Johnson Thinks New Girl Is His Closet
— Nicola Jones