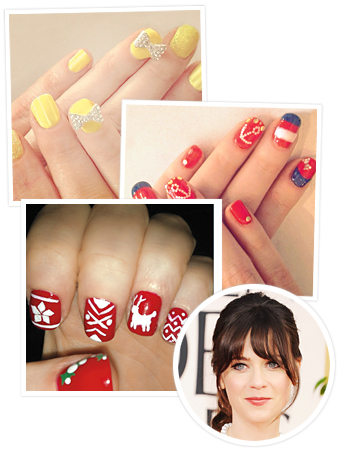 Courtesy Instagram (3); MavrixOnline
Our cover girl Zooey Deschanel has been the reigning queen of red carpet nail art ever since the world first saw her tuxedo manicure at the 2012 Golden Globes. While her many designs may have prompted us to try our hands at recreating them, the star's own nail art inspiration came from a habit she was trying to kick. "It started when I was trying to stop biting my nails," she told InStyle. In our April issue, Deschanel rounded up her eight favorite patterns she has worn so far, and dished on why she loved each look so much. Click through our gallery to see her top eight manicures now. And pick up our April issue—or download it to your iPad, Nook, or Droid tablet—to read more from Zooey!
MORE:
• Try on Zooey's Awesome Hairstyles
• Go Behind-the-Scenes with Zooey
• See Zooey's Best Looks Ever!