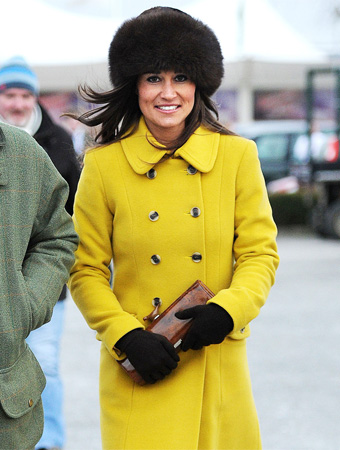 PA PHOTOS /LANDOV
Pippa Middleton headed to Cheltenham Festival in London yesterday to see the horses race, and she couldn't have chosen a toastier look for the occasion! The royal-in-law kept warm in Catherine, Duchess of Cambridge favorite Katherine Hooker's double-breasted mustard "Tori" topper, a look from the designer's fall lineup that has yet to be released (lucky, Pippa!). "The sun is shining at Cheltenham and how GREAT does Pippa Middleton look in her Katherine Hooker Tori coat?" the designer Tweeted. Stylish indeed, especially with the addition of a Cossack fur hat, Kate Spade New York clutch, and Aquatalia boots (another designer her sister loves). Hooker's "Tori" coat will be available to everyone later this year when her autumn lineup hits stores.
Plus, see more of Pippa's best looks!
MORE:
• Pippa's Heart-Print Scarf for a Good Cause
• Revenge's Pippa Lookalike Red Dress
• Love Star Style? Sign Up for Our Newsletter!