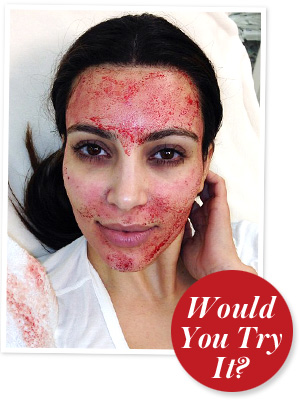 Courtesy of Instagram
Mom-to-be Kim Kardashian may chalk up her radiant complexion to her "pregnancy glow" these days, but we're thinking the Vampire Facial she got in this week's episode of Kim and Kourtney Take Miami also has something to do with it. The reality star brought this new treatment into the spotlight—the Instagram photo she posted after her visit to the Miami Institute for Age Management currently has over 131,000 likes—and it has us wondering if it's more "eek" than "aah."
"Vampire-related imagery may sound ghoulish, but the Vampire Facial only does good things for your skin," said Tom O'Brien, the CEO of Eclipse Aesthetics, whose Eclipse MicroPen is used in the treatment. "We take a small amount of the patient's blood, and once we process the blood, we give most of it back to help the patient improve skin quality." The blood is spun in a centrifuge and combined into a platelet-rich plasma, then injected into the patient's face. While you won't get a sparkly Edward Cullen-esque effect, users can expect to have imperfections caused by aging and acne diminished, revealing a more youthful appearance.
So, are you convinced? Tell us if you'd try this new treatment by voting in the poll below.
Plus, see our Best Beauty Buys for your face, no blood required!
MORE:
• Kim Kardashian to Launch Another Scent
• Try on Kim Kardashian's Many Gorgeous Hairstyles!
• Lady Gaga's Stylist Talks About Dressing Kim Kardashian