There is no accessory more important in the classic Wizard of Oz fairytale than the click-your-heels-together-and-pray-for-home ruby slippers. And since Judy Garland's 1939 originals are currently in the Academy Museum of Motion Pictures in Beverly Hills (thanks to some help from Leonardo DiCaprio), we asked our March cover girls—Oz the Great and Powerful stars Mila Kunis, Rachel Weisz, and Michelle Williams—for their 21st-century updates. Their picks:
MILA KUNIS
Pick: Chanel's Ankle-Strap Pumps
Why: "Such a classy look! What really appeals to me is that they'd be equally gorgeous with jeans or something dressier."
Where: $1,350; at select Chanel boutiques; visit chanel.com for locations.
MICHELLE WILLIAMS
Pick: Charlotte Olympia's Clio Leopard Heels
Why: "The heels on this pair make me feel teetery-tottery—in a good way, like I've had a glass of Champagne!"
Where: $1,095; call 212-744-1842 or visit modaoperandi.com.
RACHEL WEISZ
Pick: Rag & Bone's Classic Newbury Boot
Why: "I love Rag & Bone. Their stuff has a bit of edge but is also refined."
Where: $495; at rag-bone.com.
Plus, snag the March issue of InStyle to read more about our cover ladies, on newsstands and downloadable for your tablets now. For a sneak peek, cilck "Inside the Cover Story" to read the five juiciest quotes from the issue.
MORE:
• First Look: HSN's Oz-Inspired Collection Lookbook
• Video: Watch the Cover Girls in Action!
• Try on the Cover Girls' Hairstyles!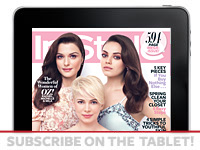 Download the new issue on your tablet: