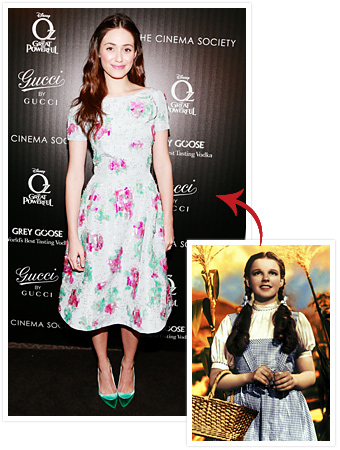 FilmMagic; Everett Collection
Emmy Rossum stepped into the wonderful world of Oz at last night's screening of Oz the Great and Powerful in New York, hosted by Gucci and The Cinema Society, by wearing a look inspired by the story's heroine, Dorothy. "It's Oscar de la Renta," she said of her silk dress, an aquamarine design embroidered with three-dimensional flowers. "I would say it's a little Oz-inspired." She chose it after looking at the designer's pre-fall 2013 collection online—she famously styles herself, handpicks her outfits, and emails designers—and pulled the look straight from the runway ("I loved it!" she added). She topped it off with ODLR's ivy and aqua satin pumps—though, we think red sparkly shoes would have also been a fitting option.
Plus, see more of Emmy's best outfits ever.
MORE:
• Emmy on her Beautiful Creatures Costumes
• Check Out Emmy Rossum's New Album
• The Beauty of the Three Oz Stars