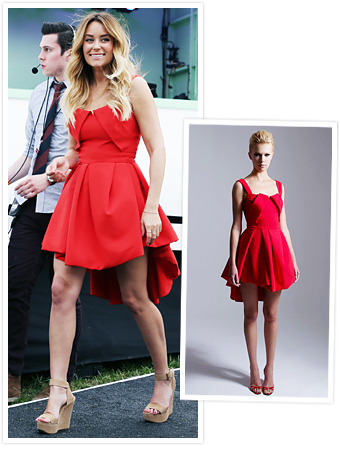 Pacific Coast News; Courtesy Photo
It's Fashion Week in Miami, too, and Lauren Conrad jetted to sunny Florida to co-host Cotton's 24-Hour Runway Show in her very own catwalk-worthy, cute red dress. And we found it! The Paper Crown designer, who also lightened her signature blond waves for her trip to South Beach, worked the stage in Black Halo EVE by Laurel Berman's "Sterling" cocktail look. "The fit and color of our tangerine EVE cocktail dress is the perfect pairing for Lauren's youthful, effortless style," Berman told InStyle.com. "She is the ultimate Black Halo girl ready for spring!" Get a jump start on your spring shopping by picking up Lauren's dress, available at select Neiman Marcus locations for $490.
Plus, shop more celebrity looks we love.
MORE:
• Lauren's 7 Best Style Tips
• Try On Lauren Conrad's Hair!
•   Lauren's Spring Collection for Kohl's