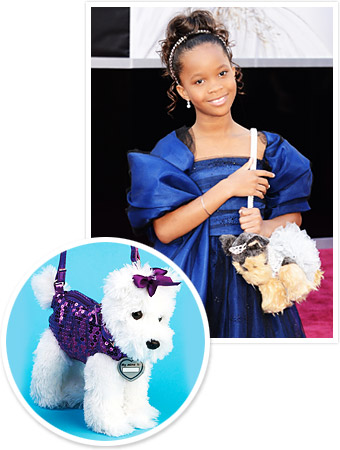 Jason Merritt/Getty Images; Courtesy
Beasts of the Southern Wild star Quvenzhané Wallis accessorized her Giorgio Armani dress with another one of her signature puppy purses at the 85th Annual Academy Awards! Wallis even collects the animal-friendly bags that she first started toting when the film debuted at the Sundance Film Festival. "I brought one to Utah [for the Sundance Film Festival], and that was the first one I ever brought everywhere," Wallis told InStyle.com at the Film Independent Spirit Awards. Have a puppy-loving little girl in your life? Start her own collection by checking out this New Girls Pet Scout Terrier Puppy Purse Tote with Sequined Outfit ($18.99) to re-create Wallis's statement accessory. Shop the bag at bonanza.com.
Plus, see all the Oscars 2013 red carpet looks!
MORE:
• Oscars: InStyle's Behind-the-Scenes Instagram
• Designers Pick Oscars Gowns
• Who's Bradley Cooper's Oscars Date?