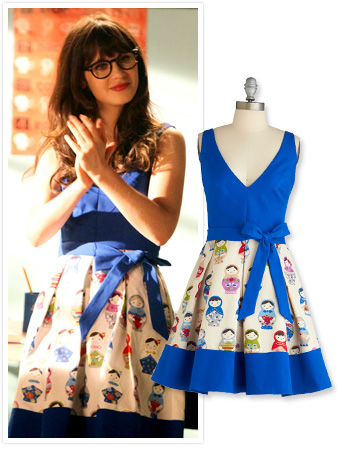 Patrick McElhenney/FOX; Courtesy Photo
New Girl costume designer Deb McGuire is always trying to balance Zooey Deschanel's cuteness with a hint of sex appeal, so when she saw this whimsical Matryoshka doll print dress by Eva Franco, she flipped! "This dress is amazing for so many reasons," McGuire told InStyle.com. "It has a very young vibe in that primary royal blue that we love, but with a deep sexy v-neck. After all, that's Jess!" The dress, priced at $295, is currently sold out on  modcloth.com, but we confirmed that it's coming back soon—just click "notify me" and the site will email you when it's available. Find out what else Deschanel wore on possessionista.com.
Plus, see the latest news about New Girl!
MORE:
• Zooey's Red Vest Used toBe a Coat!
• Olivia Munn Guest Stars on New Girl
• Deschanel's Red Hot Golden Globes Gown

— Dana Weiss of Possessionista.com