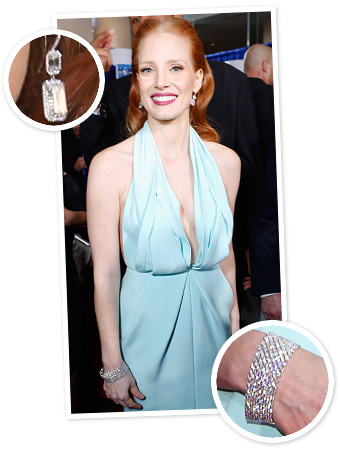 DPA /LANDOV (2); Alexandra Wyman/Getty
The only thing shining brighter than the celebrities at last night's Golden Globe Awards was all the bling that walked down the red carpet! And there was one star whose baubles seemed to shine the brightest: Best Actress winner Jessica Chastain offset her customized seafoam Calvin Klein dress with $3 million worth of Harry Winston diamonds set in platinum, including a bracelet of diamond webbing and beautiful dangling earrings. The Zero Dark Thirty star must be used to walking around with an insane amount of rocks on by now—just last week she wore a beautiful collar necklace worth more than $1 million from the same jewelry designer. These are numbers we can barely wrap our brains around!
Plus, see what everyone wore on the Globes carpet!
MORE: 
• Inside the 2013 Golden Globes Gift Bag
• Golden Globes Nominees 2013
• Tina Fey and Amy Poehler on Hosting