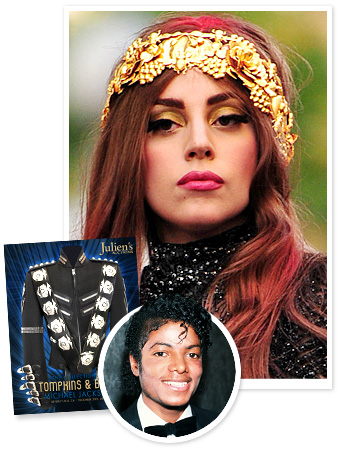 Josiah Kamau/BuzzFoto/FilmMagic; Dave Hogan/Getty
The King of Pop's legacy lives on through the iconic fashion he wore throughout his life and career—and now, his looks have raised more than $5 million for charity. Nearly 500 of his belongings were sold to the highest bidders at Julien's Auctions this weekend in Los Angeles, and  Lady Gaga was amongst the lucky buyers to take home a piece of pop culture history. She scored a pretty big chunk, too—the singer later tweeted, "The 55 pieces I collected today will be archived & expertly cared for in the spirit & love of Michael Jackson, his bravery, & fans worldwide." While she did not reveal specifically what pieces she won, we're hoping to see her don one of his memorable items soon. A portion of proceeds from the auction went to two charities, Guide Dogs of America and the Nathan Adelson Hospice of Las Vegas.
Plus, see the icon's greatest fashion hits ever!

MORE MICHAEL:
• Michael: Style Icon to the Stars
• His "Thriller" Video Jacket Sold for Millions!
• Michael's Greatest Grammy Performance