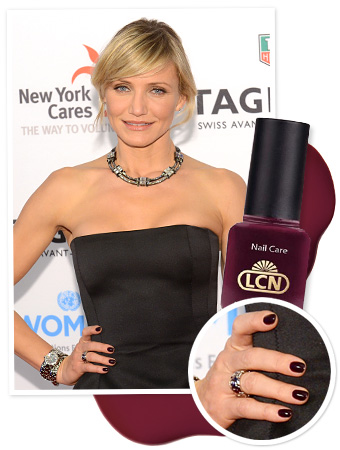 Rob Loud/Getty; Courtesy Photo
Wine-hued lips are a big trend for fall, and the color looks just as great on your nails! We loved the deep burgundy lacquer Cameron Diaz wore to the TAG Heuer event in New York City—she picked LCN's nail polish in Walk of Fame—a hue the star's manicurist Michelle Davignon chose to play off of the dark tones in her Lanvin dress. At first glance, the merlot shade almost looks black, but it contrasts just enough for a sophisticated accent. Pick up the color for just $7.50 at lcnboutique.com.
Plus, see more celebrity manicures we love!
MORE:
• Fun Manicure Idea: Plum Nail Polish
• Butter London's Gwyneth-Approved Lacquers
• Try a White Statement Nail Now!