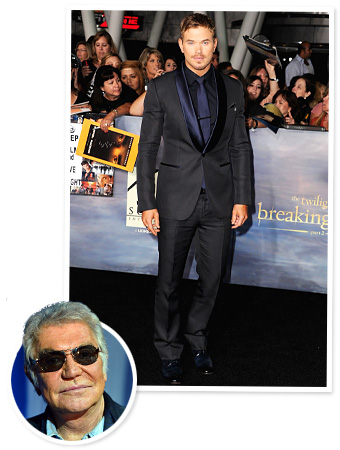 GIUSEPPE CACACE/AFP/Getty; Steve Granitz/WireImage
Kellan Lutz has a new best friend: Roberto Cavalli! "We love Roberto!" Lutz told InStyle.com at last night's Hollywood premiere of The Twilight Saga: Breaking Dawn – Part 2, where he and Australian girlfriend Sharni Vinson both wore looks by the Italian designer. "I met him in Milan," Lutz added. "We said to him, 'We would be honored if we could wear something of yours.' Then we got fitted in Milan—which is crazy to think. We had my suit and her dress months ago!" And their relationship has grown since. "He opened his house and arms up to us," Lutz explained. "We got to hang out with him in St. Tropez. He's a good friend now." See… Edward doesn't have all the fun!
See photos from Breaking Dawn – Part 2!
MORE:
• Robert Pattinson Talks His "Loud Kissing"
• Watch the Breaking Dawn – Part 2 Trailer
• Roberto Cavalli's Spring 2012 Looks!
— Lindzi Scharf