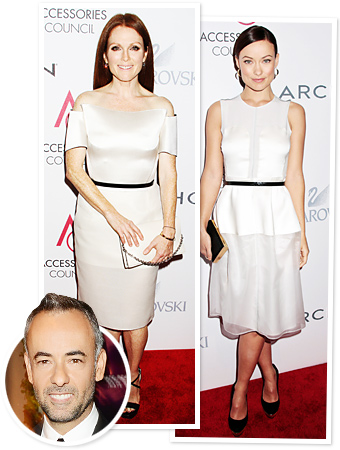 BEImages; INFphoto; WireImage
Whoa, fashion double-take! Julianne Moore and Olivia Wilde looked like they grabbed the same dress at last night's ACE Awards, as both chose a winter white look with a thin black belt by Calvin Klein. There were subtle differences, of course: Moore's strapless style included off-the-shoulder sleeves, while Wilde's high-necked sleeveless version featured a hint of peplum. Either way, CK creative director Francisco Costa—who was there to receive the Accessories Council's Designer of the Year award with colleagues Italo Zucchelli and Ulrich Grimm—was thrilled as he watched the ladies walk down the red carpet. "They look amazing, they really do," Costa told InStyle.com of seeing the stars in his designs. "I love seeing women in the clothes because they really come alive. It's amazing." Indeed!
Plus, see more stars who love to wear CK.
MORE:
• Inside the 16th Annual ACE Awards
• Alexander Skarsgard on Calvin Klein
• All Calvin Klein News!