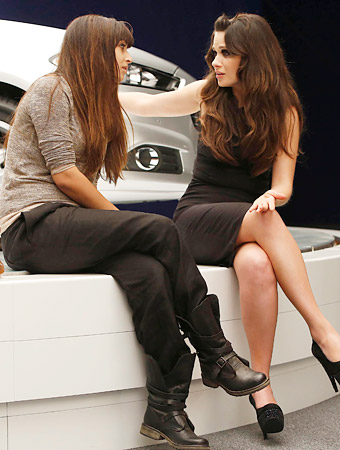 Courtesy of Greg Gayne/FOX
On last night's episode of New Girl, Jess (Zooey Deschanel) traded her signature breton striped sweaters and vintage dresses for a super sleek LBD when she filled in for Cece (Hannah Simone) as a car show model—and we found her look! The one-shoulder dress is the Ava dress by StopStaring, available for $142 at stopstaring.com. Jess may have had a tough time working the rotating platform, but we had no problem believing she was supermodel Gigglebangs Ricebowl in this cute design. See what else Zooey wore on last night's episode at possessionista.com.
Plus, shop more star style.
MORE:
• Check Out Deschanel's Transformation
• See Zooey's Quirky Red Carpet Manis
• The Good Wife Fashion
— Dana Weiss of Possessionista.com