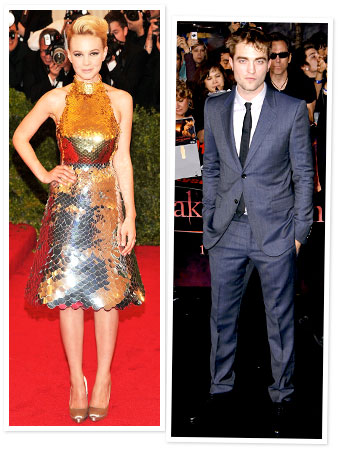 Stephen Lovekin/FilmMagic; Picture Perfect/Rex USA
Twihards rejoice! Robert Pattinson is confirmed to star opposite Carey Mulligan in Hold On To Me (no release date yet), directed by James Marsh, who previously won Oscars for his documentary films Man On Wire and Project Nim. The new movie is based on a true story and casts Mulligan as one half of a bandit couple who kidnap the richest man in their town for ransom and bury him alive—to dire consequences. Pattinson portrays her (scandal alert!) other love interest, Jimmy. Considering the actress' turn in Drive with the one and only Ryan Gosling (and her role opposite Leonardo DiCaprio in the forthcoming The Great Gatsby), we can't help but think Mulligan has cornered the market on sexy co-stars!
Plus, see new shots from Breaking Dawn!
MORE:
• Mulligan's Engagement Ring
• See Pattinson's Transformation
• 25 Photos of Robert Pattinson!