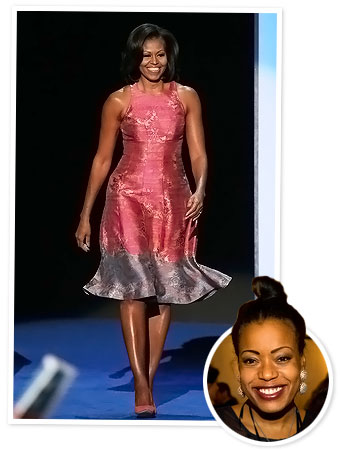 Alex Wong/Getty; Steven A Henry/Getty
Michelle Obama knows how to wow a crowd—just look at her hot pink Michael Kors look from last night's presidential debate. Though, the level in which people pay attention to her choices remains surprising to even those who dress her, including Tracy Reese, who created the red and silver dress the First Lady wore to speak at the Democratic National Convention. "I'm a little mystified," she told us at the American Theater Ballet's opening night gala in New York City last night. "I'm flattered. It's interesting how much conversation got generated about her dress and nails, but for me, the night was all about her speech." Yet, she knows the power of a good dress—the style will go on sale soon (it was rushed into production) and there is already a look inspired by Obama's style in Reese's collection for Anthropologie (shop it for $298 at anthropologie.com). 'Tis election season!
Plus, see more stars in Tracy Reese.
MORE:
• The Pink Debate: Ann or Michelle?
• Michelle Obama's DNC Nail Polish
• Michelle's Convention Look: Details!