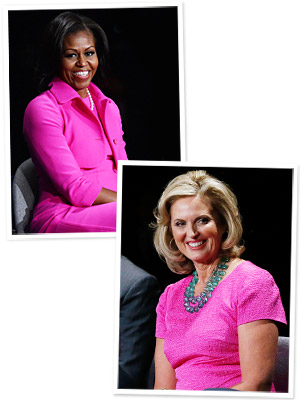 Getty Images; Landov
The second presidential debate took place last night with Barack Obama and Mitt Romney facing off at Hofstra University. Their wives were there to offer support to what many are calling an Alpha Male battle, with both Michelle Obama and Ann Romney wearing hot fuchsia pink ensembles—perhaps an homage to National Breast Cancer Awareness Month. The First Lady wore a Michael Kors crepe sheath and matching jacket, while Romney paired her short-sleeved dress with a turquoise statement necklace. Just this week, Kors told InStyle.com how he feels about dressing women in the spotlight: "I'm only as good as the people I dress," he said at the Golden Hearts Gala in New York. "They are the ones who bring it to life." So, which look did you prefer? Tell us by voting in the poll below!
Plus, see our favorite Breast Cancer Awareness products!
MORE:
• Take a Cue from FLOTUS' Fab Style!
• See Michelle Obama's Transformation
• Check Out Our Favorite Mrs. O Looks
• Have First Lady Fashion—Will Travel