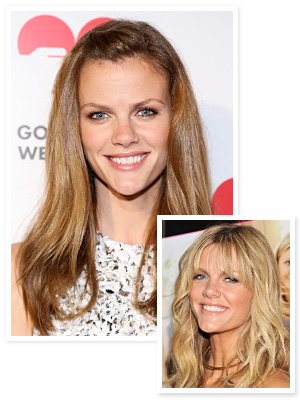 Neilson Barnard/Getty; Stephen Lovekin/Getty
Like Olivia Wilde and Dakota Fanning before her, Brooklyn Decker also chose to go darker this fall, debuting brown strands at last night's God's Love We Deliver 2012 Golden Hearts Awards Gala in New York City. "It hasn't been brown in a long time," she said. "I was really bored and just decided to go brown." For the dye job, she called upon hairstylist pal Michael Angelo and made a stop at his Wonderland Beauty Parlor. "I've been going to him for years and he's so much fun and has a great place," Decker told InStyle.com. "It took maybe two or three hours. There were several steps. I'm sure my hair smells like lovely chemicals right now!" Tell us: Do you like her new hue?
Plus, see more celebrity hair makeovers!
MORE:
• The Sexiest Fall Hairstyles
• Do You Need a Color Update?
• Try on Brooklyn Decker's Hairstyles
• Married: Andy Roddick and Brooklyn