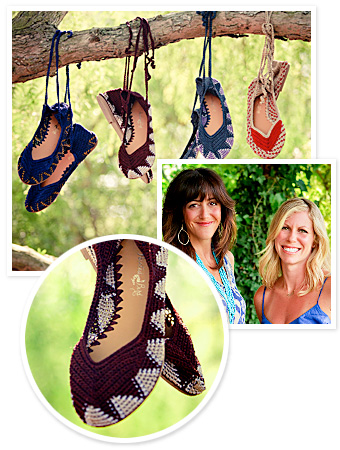 Courtesy Photo (2); Gillian Crane Photography
Fashion industry vets Jennifer Samson and Nicole Halpern just launched their cloth shoe company Painted Bird  a few months ago, and the styles have already been scooped up by Blake Lively, Reese Witherspoon, and Kate Hudson. "The name came from the idea of beautiful pieces of art for your feet that make you feel like you can take flight and be anywhere," Samson told InStyle.com. And each pair is special—the colors are hand-dyed and the shoes nylon silk thread is hand-woven by a group of eight women in India. "We love the fact that they are handmade, and we want to keep the integrity of that." Take a peek at their new fall styles—ankle strap and basic flats—at shoppaintedbird.com, and shop them for $78 each.
Plus, see more shoes stars love!
MORE:
• Blake Lively's Engagement Ring
• Kate Hudson's Best Looks Ever
• Reese Witherspoon on the Red Carpet