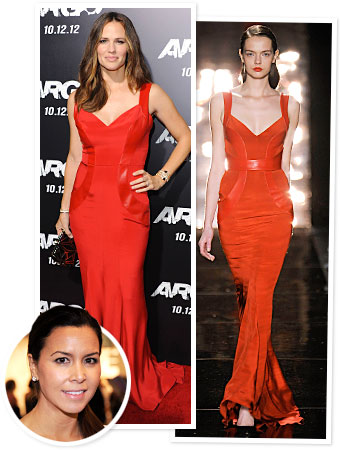 Rabbani and Solimene Photography/Getty; Jon Kopaloff/FilmMagic; Karl Prouse/Catwalking/Getty
When Jennifer Garner wore Monique Lhuillier's red contoured column dress to the Los Angeles premiere of Argo last week, she topped the list of ladies who qualified for Look of the Day—and, according to our poll, was your strong favorite for best dressed celebrity of the whole week! The gown comes from Lhuillier's Fall 2012 collection, with a twist: Garner removed the belt. "The look had a belt to cinch the waist in, but she didn't need it," the designer told InStyle.com at the Hammer Museum's 10th Annual Gala in Los Angeles. "Other than that, it was straight off the runway. It was very fluid and close to the body, and the leather gave it an edgier feel. And everyone forgets that she just had a baby. I thought she looked fabulous." We think so too!
Plus, see Jennifer Garner's best looks ever!
MORE:
• Ashley Greene and Jennifer Garner at the Butter Premiere
• Monique Lhuillier at New York Fashion Week
• Jennifer Garner's Transformation
— Kwala Mandel