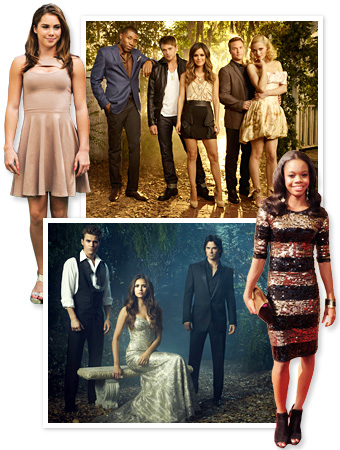 Noel Vasquez/Getty; The CW; Jon Kopaloff/FilmMagic
It's off the mats and cameras rolling for Fierce Five teammates McKayla Maroney and Gabby Douglas. The Olympic gold medal gymnasts are taking a break from the vault and the uneven bars to film guest spots on two of the CW's hottest dramas. While Maroney will join the Bluebell cast on Hart of Dixie, Douglas visited The Vampire Diaries' Nina Dobrev and her costar/real-life boyfriend Ian Somerhalder on the Mystic Falls set earlier this week. And its mutual admiration between the actors and the athlete. After shooting wrapped, Dobrev tweeted: "Thanks for coming @gabrielledoug , I hope you had fun—you were great ! Smile is even brighter in person… : )" We think it's an all-around brilliant match! Further proof that the CW really loves its olympians? Gold-medal swimmer Ryan Lochte will play himself in an upcoming episode of 90210. No word yet on whether his wardrobe involves a Speedo… Hart of Dixie returns on Tuesday, October 2, at 8 p.m. EST, and The Vampire Diaries kicks off season 4 on Thursday, October 11, at 8 p.m. EST.
Plus, click through the gallery to see how America's sweethearts dress outside the gym!
MORE:
• How to Recreate Nina Dobrev's Hair
• Your Favorite Salvatore Brother Is…
• Gabby's Best Gold Medal Moments