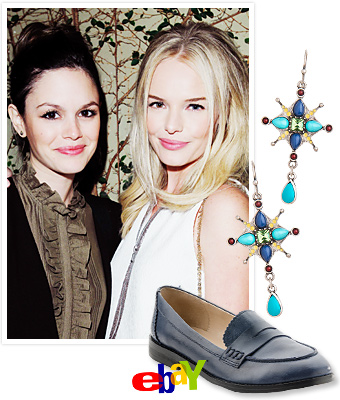 Getty Images; Courtesy Photo (3)
The Fashion Vault at eBay just got an upgrade! The online marketplace has teamed up with social commerce endeavor BeachMint for a weeklong sale—now through September 24, which means you can shop collections curated by the celebrities associated with the different arms of the online e-tail umbrella. This includes Mary-Kate and Ashley Olsen (StyleMint), Kate Bosworth (JewelMint), Rachel Bilson (ShoeMint), Jessica Simpson (BeautyMint), and Justin Timberlake (HomeMint). Each of the stars lend their particular fashion sense to the designs. Mary-Kate talked to eBay's Inside Source blog about why the pair decided to participate in the collaboration: "When I shop vintage I search for special, one of a kind items. I love how eBay connects you to people and closets you wouldn't typically have access to." Be sure to check out the exclusive items they're offering to buy now on the Fashion Vault, like these navy Mona loafers ($56) from ShoeMint and Rococo Cross Earrings ($21) from JewelMint. Better start clicking before the sale ends Monday!
Plus, see StyleMint's September collection!
MORE:
•  Rachel Bilson Fashion Gallery
•  Try Kate Bosworth's Melon Lip
•  Olsens Win Big at 2012 CFDAs