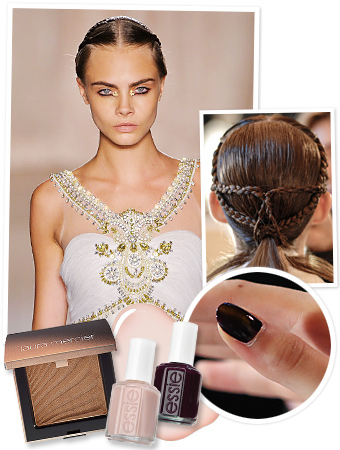 Imax Tree; Getty Images (2); Courtesy Photo (3); Time Inc. Digital Photo Studio
Known for their delicate embroidery and chic beading, Marchesa's Georgina Chapman and Keren Craig took us on a magic carpet ride to "India in the 1960s"—think decadent gold leaf makeup, graphic tribal ponies, and jewel tones galore (we love a deep plum nail!). The collection fuses Eastern and Western cultures, combining their elements and bringing out the best beauty of each. We went backstage to get the complete breakdown from hair to nails—and managed to get some more details on the wedding dress everyone is talking about! So click through our gallery to get the complete how-to, along with the exact products used.
MORE:
• All Marchesa News!
• Blake Lively Wore Marchesa on her Wedding Day!