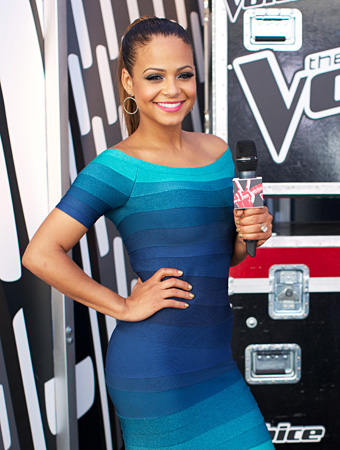 Tyler Golden/NBC
On last night's episode of The Voice, social media correspondent Christina Milian chose a blue striped Herve Leger dress to kick off the blind audition rounds. "I loved it because it was tight and sexy," she said. "And the color gave it a little more oompf—it's fun getting to play dress up every week!" Since she's always holding a microphone to interview the contestants, Christina hinted to pay close attention to her hands this season because she takes her nail polish choices and rings very seriously. "Accessories mean a lot to us," she said. "I haven't worn gloves yet, but I want to soon. And I would love to do something crazy with gel nails, or a big ring."
What did you think of Christina's look? And whose team are you rooting for so far? Tell us in the comments below!
Click below for all of our coverage of The Voice.

MORE:
• The Voice: Beauty Tips from the Show's Hairstylist!
• The Voice: Christina Aguilera's Premiere Outfit Details
• Would You Wear a Perfume by Adam Levine?