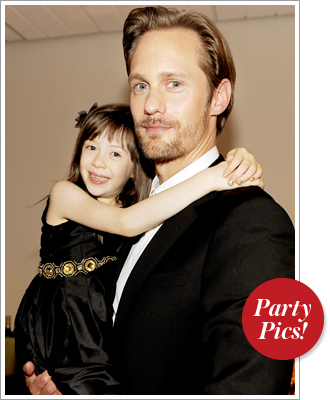 Chris Pizzello/Invision/AP
InStyle hosted the cast of What Maisie Knew for a private dinner to celebrate their new film its official premiere at the Toronto International Film Festival. While Julianne Moore and Alexander Skarsgard (in Gucci) brought the star power to the Windsor Arms Hotel where the dinner was held, it was the 7-year-old actress who plays Maisie, Onata Aprile, who stole the spotlight. "She has this raw quality," Skarsgard said of his pint-size co-star. "She has this emotion, this energy that was just there. I fell in love in like two seconds, and then I was gone—so in love with her." And like her character, Aprile knows: Both Skarsgard and Moore scooped her into their arms after reuniting for the first time at the dinner. It was adorable overload!
Plus, see more from TIFF! 
MORE:
• Jennifer Lawrence's Katniss Hair
• Kristen Stewart Returns in Zuhair Murad
• TIFF Parties: Who's Here and Who's Out!