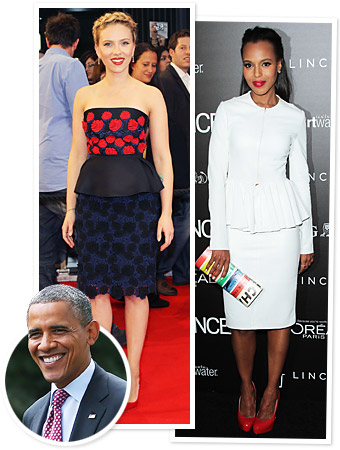 Startraks; AFF-USA; Getty Images
The stars are really aligning at the Democratic National Convention tonight! According to CNN, Scarlett Johansson and Kerry Washington are slated to speak prior to President Barack Obama's keynote, which is scheduled to start around 10 p.m. EDT on all major networks. (Natalie Portman was also reported to appear, but her rep has since denied.) With the presidential election fast approaching on November 6, more and more celebrities have spoken out in support of their favored candidates. Ashley Judd is also appearing at the DNC this week, and Nicki Minaj just yesterday rapped her support for Republican candidate Mitt Romney. Tune in tonight to see what Johansson, Washington, and Obama have to say!
Plus, try on the Obamas' hairstyles below!
MORE:
• First Lady Style With Michelle Obama
• Transformation: Michelle Obama
• Our Favorite Michelle Obama Looks
• First Lady Fashion: Both Sides of the Pond