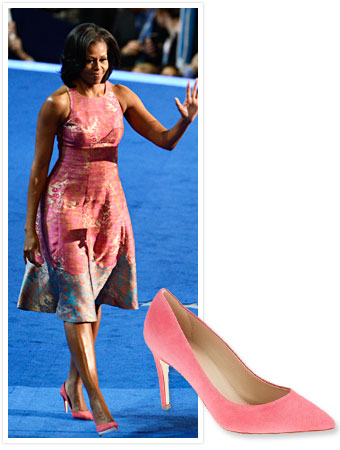 Adam Jennings/Charlotte Observer/MCT/Getty
Michelle Obama made her first appearance at the Democratic National Convention last night in Charlotte, North Carolina wearing a pink-and-gold printed frock that immediately lit up the Twitterverse with compliments and applause. The dress is a custom design by Tracy Reese, a Detroit-born African-American designer, who told the Wall Street Journal she was "moved to tears" by the First Lady's speech. To finish the look, Obama paired the dress with rhubarb-hued heels by J.Crew—the Everly suede pumps, available for $245 at jcrew.com (they also come in azure, burnt sienna, and vivid lime). Tell us in the comments: Did you love this look?
Plus, see the First Lady's best looks ever!
MORE:
• First Lady Style With Michelle Obama
• Transformation: Michelle Obama
• Our Favorite Michelle Obama Looks