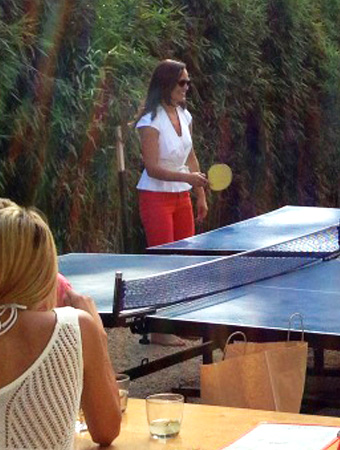 XPOSUREPHOTOS.COM
She's heeeeeeeere! Prince William's rambunctious sister-in-law, Pippa Middleton, hopped the pond, arriving in New York to meet with publishers about her upcoming book on home entertainment, Celebrate: A Year of Festivities for Families and Friends. And she brought her socialite lifestyle with her. After checking into the posh Carlyle Hotel on Manhattan's Upper East Side and spending the evening in the city's uber-trendy Meatpacking District, she headed out to hip Shelter Island, where she played ping pong with hotelier Andre Balazs at his Sunset Beach Hotel, the New York Post reports. She was all ease in a white top and bright red Kate Spade capris—getting the most out of the colored denim trend that dominated the summer. (The pants are the Broome Street style; $79 on sale at katespade.com.) We can't wait to see if she ends up at New York Fashion Week! It starts Thursday and the lookout is on.
Plus, see more of Pippa's best outfits.
MORE:
• This Is Pippa Middleton's Book
• Pippa Middleton Has Flats in Every Color
• Her Favorite Bag Is On Sale!