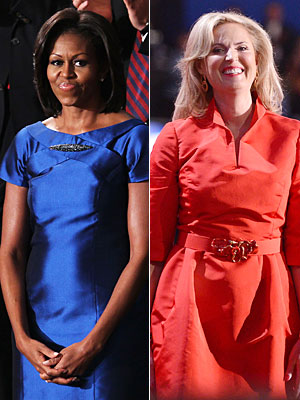 Mark Wilson/Getty; Douliery/Hahn/ ABACAUSA.com
While Mitt Romney and Barack Obama are busily campaigning for your votes, we're getting down to business with a poll of our own—the red v. blue debate. Stylewise, Ann Romney declared her love of Republican red in bright cardinal Oscar de la Renta at last night's Republican National Convention, while First Lady Michelle Obama loves wearing the Democratic-favored American flag-blue, such as the sapphire Barbara Tfank dress she wore to the State of the Union address in January. So, politics aside—which hue do you prefer? Tell us by voting in the poll!
Plus, see Michelle's best looks.
MORE:
• First Lady Style With Michelle Obama
• Transformation: Michelle Obama
• Our Favorite Michelle Obama Looks
• First Lady Fashion: Both Sides of the Pond