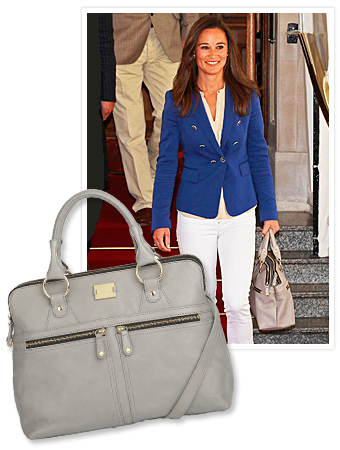 Stefan Wermuth/Reuters; Courtesy of Modalu
Pippa Middleton wore her Modalu purse so much after the Most Epic Wedding of 2011 that the British accessories company renamed it after her! Ever since, the bag has been re-issued in multiple colors and sizes—Pippa herself owns shark gray and crocodile black—some of which are on sale now. Get the Pippa Grab by Modalu in white lizard or sand leather for $155, down from $309. Complete the Pippa accessory look with a matching wallet for $77 (originally $110). Or take the look into fall with a shoulder style in deep navy for $126 (originally $252). Find these styles and more variations of the Pippa-loved and Pippa-named style at modalu.com.
Plus, see 141 photos of Pippa's outfits!
MORE:
•  Pippa Carries Modalu After Wedding
•  Would You Wear Nude Hose Like Pippa?
•  This Year, Pippa Loves Red Accessories