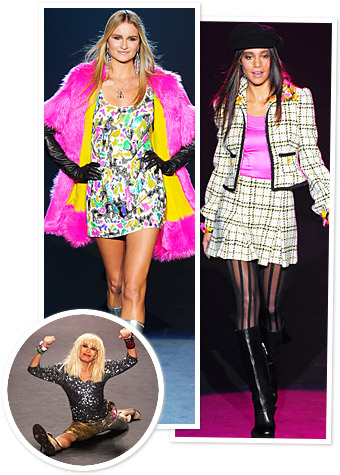 Imaxtree (2); Getty Images
Betsey Johnson may have shuttered her stores this year, but her hot pink dresses and printed floral skirts aren't going anywhere just yet! The designer just announced that she will launch a collection only of dresses—her most sought-after items—that will sell in department stores and boutiques come spring 2013. Fans of Betsey will get a peek at her new duds next month during her Fashion Week show, which is gearing up to be a retrospective of her work from the '60s, '70s, and '80s. Fans can even contribute to her runway lineup by submitting photos of her vintage pieces to her BJ Treasure Hunt on Facebook. One lucky winner will win a ticket to her runway show (and see her infamous finale acrobatics in person). Things are looking up for Betsey—and her fans!
Plus, see TwitPics from last Fashion Week!
MORE:
• First Look: Betsey Johnson for Sephora by OPI
• Why Did Betsey Johnson Make a Barbie Hat?
• Designer Q+A: Who Is Your Favorite Celebrity?