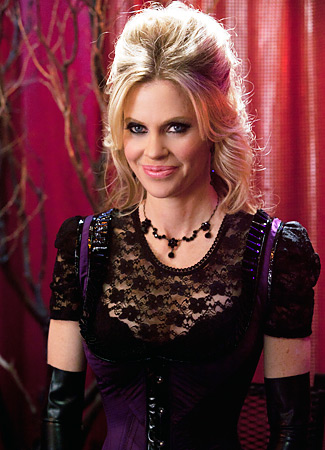 Courtesy of John P. Johnson/HBO
True Blood aired last night! And while the drama rages on between Sookie (Anna Paquin) and her main boys, Bill (Stephen Moyer) and Eric (Alexander Skargard), we can't help but get distracted by one little thing: Pam's (Kristin Bauer van Straten) super-sexy costuming. "You get the script, and you have these pretty great scenes—these crazy scenes and dialogue—and then the wardrobe fitting feels like Christmas," Bauer van Straten told InStyle.com at the launch of HSN's TB-inspired Forsaken Beauty Collection. "[Costume designer] Audrey Fisher is amazing. She brings in a rack of that stuff and I email her and go, 'What do you think we're going to do—what direction?'" According to Bauer van Straten, there are only two options: "Sexy or sexier. You don't do a lot of breathing during the day, but it's fun!" Considering how devilish her character can be, we bet it is!
Click to preview the Forsaken Beauty Collection.
MORE:
• HSN's True Blood Nail Polish
• True Blood Cast on Love Triangles
• Alexander Skarsgard for Calvin Klein