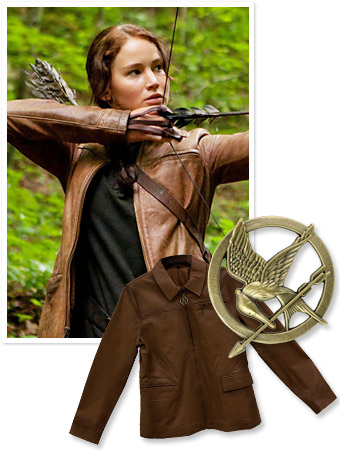 Courtesy of Lionsgate and Target
The Hunger Games DVD comes out August 18th (that's less than two weeks away), and in celebration, Target created some limited-edition items that any superfan outside of District 13 would want. Rolling out with the DVD, the retailer will also sell a replica of Katniss Everdeen's leather hunting jacket ($349 starting August 18th) and a 14-karat gold version of her signature Mockingjay pin ($999 starting the 20th). Only 100 versions of each collector's item will be made and sold exclusively through target.com, so if you want them, act fast. However, there's consolation to be had in the three-disc deluxe DVD set—it includes 45 minutes of new content and is $21; visit target.com to pre-order the goods.
Plus, see more pins in movie history.
MORE:
• Calvin Klein Releases Katniss-Inspired Dress
• Katniss Everdeen Gets the Barbie Treatment
• Jennifer Lawrence: 5 Hairstyles in 5 Days