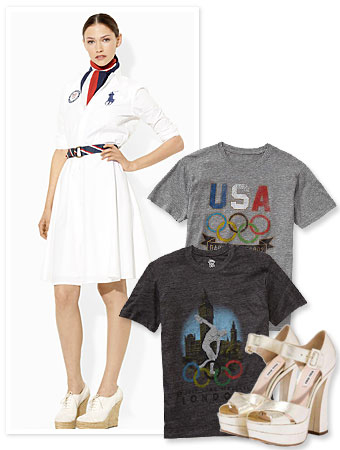 Courtesy of Ralph Lauren; Courtesy of Gap (2); Courtesy Photo
There are still plenty of Olympics left for you to rock the coolest shoes, clothes and purses inspired by the London games. In droves, designers released limited-edition and athletic-inspired products that go way beyond leotards and running shoes. From Miu Miu's sexy gold, silver, and bronze pumps, to Ralph Lauren's all-American Opening Ceremony looks, and limited edition tees from Gap and Karl Lagerfeld, we've rounded up our top shopping picks to get you in the Olympic spirit! May the odds be ever in Team USA's favor!
MORE:
• Kerri Walsh-Jennings's Olympics Oakley Sunglasses
• Kate Middleton's J Brand Olympic Jeans
• You Can Buy the Official Olympics Gear!